MayMadness 2009 in Prescott. Our biggest contra event.We are still in the planning stage , working to make next year's event the best ever. As soon as we have confirmed plans we will announce them here.
Arizona Dance Links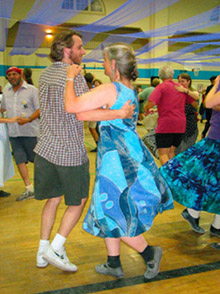 Prescott Contra
Prescott has a Contra dance once a month. It is usually on the first Friday of the month and is held at the Grace Sparkes Activity Center, 824 East Gurley street. There is a lesson at 7:30 p.m. and regular dancing from 8 to 10:30. We invite all dancers, beginners and experienced alike. Partners are definitely not required. We feature live music from our local bands, Iona and Wild Thyme, together with other bands from around the state. The dance schedule is shown below. Need more information? Call Bruce Hardwick at 928-445-3496.

Go back to Links Menu>
Cottonwood Contra
Cotonwood usually has a dance on the third Saturday of the month. Be sure to call ahead for infomaion. Contact Deb. at 928-774-5936.
Go back to Links Menu>
English Country Dance in Prescott
English Country Dance classes are held weekly, 7pm Tuesdays at Mile High Middle School in Prescott. Call Archie at 928-443-8906 for details and directions.
Go back to Links Menu>
What is Contra Dance

Contra dancing is also known as New England Contra dance. It origins are based in traditional country dance from the British isles. Those dances were in turn influenced by country dances from Europe. So contra has a truly international heritage. Contra spread from those begining states and is now popular throughout the U.S. and beyond. Contra is danced in longway set, i.e. long lines of partners in opposite lines facing each other across the set. The lines typically consist of ten to twenty couples. This is known as a longways set. The layout is similar to traditional American dances like the Virginia reel. A contra dance has dancers dancing in a foursome and then progressng onto another foursome. The dance is repeated as each new foursome is formed. If this sounds confusing believe me is is not. Describing Contra dance is much more difficult than dancing it. Our evening dances start with a 30 minute lesson which will set you up for the first dance. Each dance thereafer is taught before it is danced and the caller will call the dance until everyone has got it down pat. The dances gently progress in skill level as the evening wears on. Dress is casual and comfortable and shoes should be smooth soled. You just "gotta" try it.
Go back to Links Menu>
Go back to Links Menu>